7 Reasons Why I Spent $186 On My Kids' Plates, Goodbye Plastic!
Yeah, that's a lot of money. But it's the best investment I've made! I used to buy plastic over and over again—every time it started looking gross. I tried silicone, but it quickly started to taste like soap. But now that I have Ahimsa's stainless steel beauties, I'll never have to buy another kids' dish again!

1. They're durable and will last a lifetime
I feel like my father-in-law when I say this, but… they just don't make things like they used to. I hate having to throw away broken toys after just a few weeks. It's one of the main reasons why I spent the money to upgrade to stainless steel dishes. Unlike plastic, silicone, and bamboo, stainless steel can handle anything my kids (or husband) can do to them. This means that our dishes will last for years to come, saving me money in the long run. Plus, Ahimsa has a lifetime warranty, so they've got my back on that.

2. They're completely free of any harmful, hormone-damaging chemicals
When I realized I that the plastic and even silicone plates I was using could leach harmful chemicals and/or awkward smells into my kids' food I was devastated. That was the bad news. The good news is that switching to stainless steel can reverse those effects in as little as three days. I can have peace of mind knowing that my kids' food won't have any "extra" ingredients or weird plasticky smells. Yuck.

3. Created by a pediatrician (and mom) Dr. Manasa Mantravadi
Is there anything cooler than getting to support another mom on her entrepreneurial journey? Ok, yea maybe a kid-free spa weekend, but you get what I'm saying. Knowing that a pediatrician designed these with our kids' health as the centerpiece is crucial.

4. The perfect registry gift
Since having Ahimsa dishes in my kitchen, and hearing all the compliments I get when I have other families over for playdates, it dawned on me, these are the PERFECT gift. It's now automatic that I order a mealtime set for my friends when they welcome a new baby into the world.

5. My kids are OBSESSED with the fun colors
My kids LOVE setting the table with their colorful Ahimsa plates, bowls, and cups. The only problem is the rainbow set has become the favorite that gets fought over. They're so in demand that we have to rotate colors to keep the peace in the kitchen.

6. Join thousands of raving fans
I feel a bit like I'm in the "cool crowd" now with my plates. Whenever we are heading to the park or on a playdate, I always pack a few extra snack bowls and plates. I'll even admit that I use the purposeful plates to do charcuterie boards when we have adult wine and cheese night.

7. They're the best option for the environment
Before I had kids, I didn't think as much about the environment and what we're leaving for future generations. Now though, as taking out the trash seems like a herculean effort for my husband, due to the cavalcade of Amazon boxes, our reusable stainless steel dishes are one way we can cut down.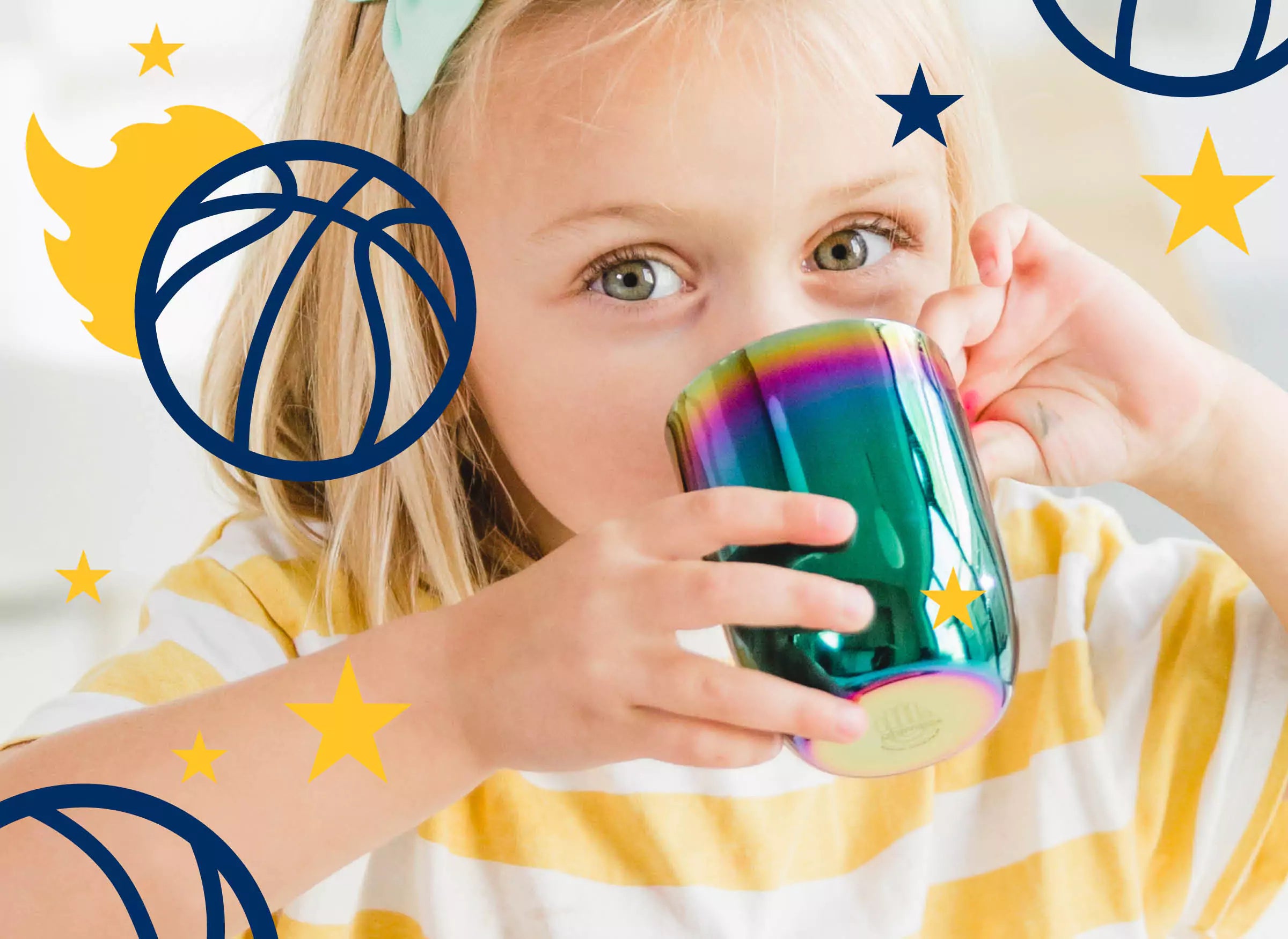 Welcome, Pacers families!
We hope you love your NBA All-Star Game-branded bottle! Thanks for visiting our world of safe, sustainable dining with stainless steel.