Privacy Policy

Protecting your information is important to us. The following guidelines set forth our general privacy practices and principles that apply to information we collect through our website located at www.ahimsahome.com (the "Website"), which is owned or operated by Ahimsa, LLC, ("we," "us," or "our").  We use this privacy notice to clearly disclose to you our privacy practices in a manner that is easy to understand.  If there is something you do not understand about our privacy practices, please feel free to contact us at support@ahimsahome.com.  This privacy notice does not apply to products or services provided, or information obtained, other than through the Website.  
Our Website is used to provide you information about the products and services we offer, including general educational information about healthy eating and other topics, and products designed to encourage healthy nutritional habits (the "Services"). 
You understand that Ahimsa, LLC does not provide medical advice over this Website and that the information that we collect from you through this Website is not protected by the Health Insurance Portability and Accountability Act (HIPAA).  Do not provide us with health information in any communications with us.
What information do we collect from you?
As part of providing products and Services to you, we may collect information, including personal information, about you or your business.  Personal information is data that can be used to identify you.  The information includes but is not limited to:
Name

Address

Email address

Phone number

Other information you disclose when you ask us a question about our Website or our products and services

Technical information about your use of our Website including IP address, device identifier, web browser and viewing information

Geo-location information telling us from where you are accessing the Website
How do we collect information from you?
Direct Collection
We collect much of the information listed above directly from you when you submit it on our Website.  This includes information you share on the Contact Us page of our Website.  When you email a question or comment to one of our team members, we receive your email address and any other information you choose to include in your email.  If you use other web forms that we may provide from time to time to submit inquiries or sign up for mailing lists or other information, we will collect the information you submit.  Additionally when you make a purchase or attempt to make a purchase through the Website, we, or our service providers, collect certain information from you, including your name, billing address, shipping address, payment information (including credit card numbers, email address, and phone number.
Indirect Collection – Cookies and Other Technology
As part of offering and providing customizable and personalized services, we use cookies and other online tracking technologies to store and sometimes track information about you.  We may use these technologies to:
Provide you with personalized content based on your use of our Website

Enable you to more easily use our site by remembering and using contact information and purchasing information

Evaluate, monitor, and analyze the use of our Website and its traffic patterns to help improve our Website and services

Assist us with ad reporting functions such as to learn which ads are bringing users to our Website
The types of technologies we use include:
Cookies

.  A cookie is a small amount of data that is sent to your browser from a Web server and stored on your computer's hard drive.  Cookies enable us to identify your browser as a unique user.  Cookies may involve the transmission of information from us to you and from you to us.  Cookies may also be used by another party on our behalf to transfer information to us in accordance with their privacy statement.  Some cookies are "persistent cookies."  They are used by us each time you access our Website.  Other cookies are called "session cookies."  Session cookies are used only during a specific browsing session.  We may use a session cookie, for example, to remember that you have already navigated through a particular menu.  We may also use "analytics cookies" that allow web analytics services to recognize your browser or device and, for example, identify whether you have visited our Website before, what you have previously viewed or clicked on, and how you found us.  This information is provided anonymously for statistical analysis only.  Analytics cookies are usually persistent cookies.

Web Beacons

.

  We also employ a software technology called a clear GIF (Graphics Interchange Format), also known as a pixel tag or Web beacon.  A clear GIF is a line of code that we place on our Websites or in emails which allows us to analyze our advertising and the general usage patterns of visitors to our Websites.  These help us better manage content on our site by informing us what content or promotions are effective.  Unless you consent, we do not collect personally identifiable information from you through the use of web beacons.  You may not disable web beacons.

Log Files

.  Like most standard website servers, we use log files.  Log files track Internet protocol (IP) addresses, browser type, Internet service provider (ISP), country and other geolocation data, the search engine queries you used to get to our Website, the pages of our Website you visit and your activities on our Website such as what images, videos, or other imbedded media you view, referring/exit pages, platform type, date/time stamp, and number of clicks.  We utilize this information to analyze trends, administer the Website, prevent fraud, track Website navigation in the aggregate, and gather broad demographic information for aggregate use.

Social Networking

.  The Website permits you to use a third party social networking platform such as Facebook, Twitter, Instagram, and Pinterest.  These plug-ins allow you to follow us on those services.  When you use social networking platforms and plugins, you share your information with them and their privacy notice applies to their disclosure of such information.  In addition, they may be able to collect information about you, including your activity or may notify your connections on the social networking platform about your use of our Website.  Such services may allow your activity to be monitored across multiple websites for purposes of delivering more targeted advertising.  Please note that their own privacy policies apply and we encourage you to read them.  We may add new social networking plug-ins and buttons to our Website from time to time.  In general, you can identify these social media buttons and the companies they represent by their logos.  We are not responsible for the privacy practices or the content of these other websites or entities or their data collection practices.
What choices do you have about the collection of information about you?
You can always choose not to submit information.  You can disable cookies in your browser.  You can choose not to use social networking plug-ins.  You can opt-out of our marketing related emails.
Direct Collection

.  If you do not want to share your information, you can choose not to participate in a particular service or activity.

Order Information

. When you place an order through the Website, we will maintain your Order Information for our records unless and until you ask us to delete this information.

Cookies

. 

You may disable browser cookies in your browser or set your browser to warn you when a cookie is being sent

.  You may lose some features or functionality when you disable cookies.  Remember, also, that disabling cookies is browser specific.  For instance, if you log on using Google Chrome, you must also disable cookies in Safari if you use that browser at a different time.  

Web Beacons

.

  It is not possible to disable web beacons.

Log Files

.  It is not possible to disable log files.

Social Networking

.  If you do not want to share your information, you can choose not to use social networking plug-ins.  

Marketing Emails

.  To ensure that you will not receive recurring marketing or other information from us unless you choose to, we will provide you with simple instructions on each marketing email from us for you to let us know that you have chosen to stop receiving such emails from us.

Do Not Track

.  Do Not Track (DNT) is a privacy preference that users can set in their web browsers.  Presently the Website does not honor DNT settings on web browsers and does not offer you the opportunity to request that we not track your use of its services except as otherwise stated in this Privacy Policy.   

Google Analytics

.  You may opt-out of Google Analytics collection by downloading the browser plugin "Google Analytics Opt-out Browser Add-on"

here

.  Google, Inc., may utilize the data collected to track and examine the use of this Website, to prepare reports on its activities and share them with other Google, Inc. services. Google, Inc. may also use the data collected to contextualize and personalize the ads of its own advertising network to serve ads to you based on your visit to our Website and other sites on the Internet. You may view Google's privacy policy

here

, with more information located

here

(including information regarding how to control how information is shared through your Ads Settings), and

here

.

Targeted Advertising

.  You can opt out of targeted advertising by using the links below: 
 How do we use your information?
Our main goal in collecting information is to support your customer relationship with us and to enhance and improve our Website, products, services, and for advertising.        
We may use your personal information to:
Answer questions you may have about our products and services
Notify you of other products or services available from us and our affiliates
Personalize online content so that is applies to you
and your interests
Provide you with advertising targeted on your interests
Make our products, services, and Website better
Compile, analyze, and do research on our users' demographics and behavior
Detect, investigate, and prevent activities that may violate our policies or be illegal
We use and share location data only to provide and improve our service. 
We use the Order Information that we collect generally to process and fulfill orders placed through the Website.
Who is collecting your information?
When you are on our Website and are asked for personal information, you are sharing that information with us and our affiliates and service providers.  Although we generally operate the Website and collect the information, we may engage third party service providers to assist us in that collection.  
Other websites to which we link may collect personally identifiable information about you when you visit those sites.  The information practices of other websites linked to our Website are not covered by this privacy notice.
With whom do we share your information?
We share your information with companies who assist us in providing services, when we need to protect our Website or information, and when we sell our businesses. We do not sell your personal information to third parties.
These are some of the ways that your information may be disclosed: 
Service Providers
We may engage third party service providers, consultants, and independent contractors to perform functions and provide services for us including without limitation those third party service providers mentioned in this Privacy Policy.  We may share the information we collect through our Website with these service providers so that they can perform services for us in relation to the Website and our business.  For example, we may share your information with our advertising and email vendors so that they can provide services to us such as emailing you about our products and services. 
Currently, we use at least these additional service providers to support our Website:
Instagram provides more information regarding the information it collects and how it is used in relation to advertising along with methods to opt out of collecting and sharing of information here:

https://help.instagram.com/519522125107875

.
Twitter provides more information regarding the information it collects and how it is used in relation to advertising along with methods to opt out of collecting and sharing information here and adjust your privacy settings as set forth therein: 

https://twitter.com/en/privacy

.
Data in the Aggregate
We may disclose "blinded" aggregated data and user statistics to prospective partners and other third parties.  Blinded data is data that does not identify an individual person.
Other
We also may disclose your information in special cases.  For example, when we believe that we must disclose information to identify, contact or bring legal action against someone who may be violating our Terms of Use, or may be causing injury to or interference with our rights or property, other Website users or customers and their information, or anyone else who may be harmed by such activities.  We may disclose, access, or monitor your personal information when we believe in good faith that the law or a regulation requires it, as part of a lawsuit or investigation, and for administrative and other purposes that we deem necessary to maintain, service, and improve our products and services and our information security. 
As we continue to develop our business, we may buy or sell businesses or assets.  In such transactions, confidential customer information generally is one of the transferred business assets.  In the event of a transaction involving the sale of some or all of our businesses, customer and Website visitor information may be one of the transferred assets and may be disclosed in connection with negotiations relating to a proposed transaction.  In such case, the transferred information may become subject to a different privacy notice.
How can access, correct or delete my personal information?
You may contact us at  support@ahimsahome.com if you wish to view, edit, or delete your personal information from our database, and we will use commercially reasonable efforts to accommodate your request.  At this time, we may not be able to specifically identify and provide you with all of the information we have collected about you for your review, editing, or removal from our databases.  In order to provide you with any information, we may request that you prove your identity to our satisfaction.  
If you believe that any inaccurate or inappropriate information has been obtained or provided to others through your use of this Website, you should contact a representative at support@ahimsahome.com.
How do we protect your information?
We take commercially reasonable steps to protect data transmitted through our Website, and we rely upon our third party vendors to supply security for the services they provide.  We cannot and do not ensure or warrant the security of any information you transmit to us or from our online products or services. You transmit information to us at your own risk and should take all necessary precautions regarding the information you transmit, either to our Website and its related vendors or elsewhere on the Internet.
Combining of Information
Except as set forth in this Privacy Policy, we generally do not combine information about you that is collected on the Website with information we have related to you that is collected through means other than through the Website.  We may, but are not required to, combine information related to you collected outside of the Website for user authentication, such as to verify your identity when you contact us or request information from us.   
Children Under the Age of 18 
Protecting the privacy of children is very important to us. For that reason, our Website does not knowingly solicit, collect or maintain personally identifiable information from users we actually know are under age 18.  If you are a parent or guardian, please contact us if you believe information regarding a child has been collected by us through our Website.  If we discover that a child under the age of 18 has provided us with personally identifying information, we will take steps to delete the information as soon as possible.
Your Nevada Privacy Rights
Your Nevada Opt-Out Rights – We do not sell your personal data, but nevertheless we offer an opt out to sales of your data to comply with Nevada law.  Verified requests under Nevada law (NRS 603A) to not make any sale of any covered information we have collected or will collect regarding you may be sent to support@ahimsahome.com.  Please include in your email "Request for Nevada Opt-Out" in the subject line and in the body of your message.  
Your California Privacy Rights
Under California's "Shine the Light" law, California residents who provide personal information in obtaining products and services for personal, family, or household use are entitled to request and obtain from us once a calendar year information about the customer information we shared with other businesses for direct marketing to you by those businesses.  This information would include the categories of customer information and the names and addresses of those businesses with which we shared such information for the immediately prior calendar year (e.g. requests made in 2021 will result in your receipt of information regarding 2020 sharing activities).  To obtain information from us send an email to support@ahimsahome.com with "Request for California Shine the Light Information" in the subject line.  We will then provide the requested information as required by the law back to that email address.
Changes to this Policy 
We may revise this Privacy Policy from time to time. The most current version of the policy will govern our use of your information and will always be available by clicking the Privacy Policy link in the footer of the main page of the Website. Please check this link often for changes. By continuing to access or use the Website after those changes become effective, you agree to be bound by the revised Privacy Policy.
Who do you contact with questions or concerns about our Privacy Notice? 
If you need further assistance, please send an email with your questions or comments to support@ahimsahome.com or write us at: AHIMSA, 320 North Meridian Street Suite 614, Indianapolis, IN 46204 USA
Effective Date: October 7, 2019, Updated 6/6/2022.
© 2021 Ahimsa LLC, All Rights Reserved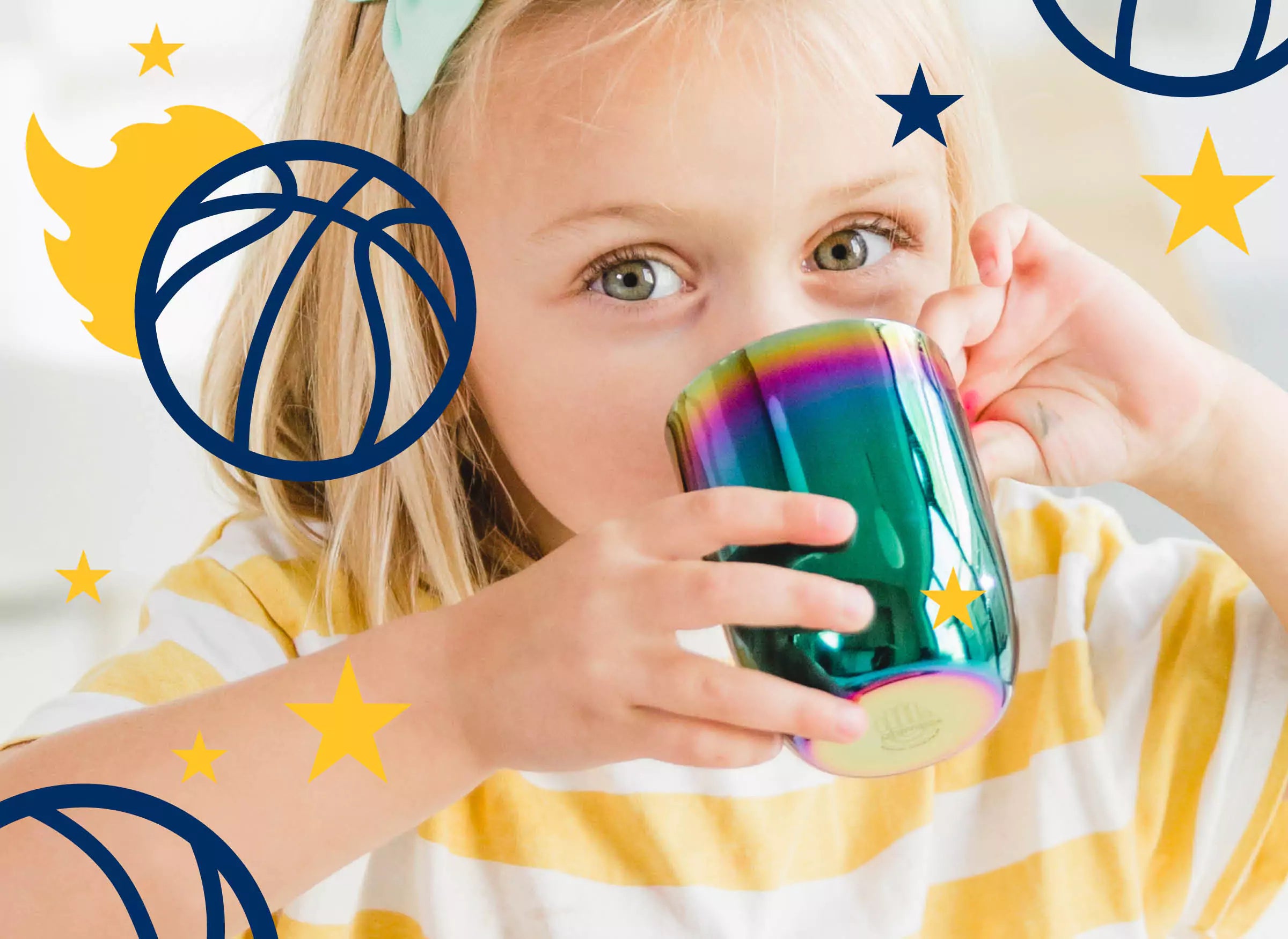 Welcome, Pacers families!
We hope you love your NBA All-Star Game-branded bottle! Thanks for visiting our world of safe, sustainable dining with stainless steel.