Terms of Service

Ahimsa Terms of Services and Conditions of Order
The Website Terms of Services and Conditions of Order ("Agreement") is made by and between Ahimsa LLC (referred to herein as "Ahimsa," "we, "or "us"), having its principal place of business in Indianapolis, IN, USA, and you, either acting on your behalf personally, and on behalf of any entity for which you are an agent or you appear to represent (collectively and individually "you," "your," or "user"). 
Ahimsa operates its Website, for the purpose of providing health, nutrition and other information for general educational purposes and for selling dinnerware products ("Services").  This Agreement contains the terms and conditions that govern your use of this Ahimsa Website and the Services.
By accessing, visiting, browsing, using or interacting or attempting to interact with any part of the Website or any Services on the Website, you agree to each of the terms and conditions set forth herein (collectively the "Terms").  For a disclosure regarding information collected and shared by Ahimsa from your access and use of the Website, visit Ahimsa's Privacy Policy. By ordering products through the Website or by mail, e-mail, phone, fax, or any other method, you agree to the Terms, including those additional terms and conditions and policies referenced herein and/or available by hyperlink.  
IMPORTANT INFORMATION ABOUT YOUR USE OF THE SERVICES
THIS WEBSITE IS INTENDED FOR USE BY INDIVIDUALS 18 YEARS OF AGE OR OLDER.  WE HAVE NO INTENT TO COLLECT INFORMATION FROM CHILDREN UNDER THE AGE OF 18.  IF YOU ARE UNDER THE AGE OF 18, YOU MAY NOT ACCESS OR USE THIS WEBSITE WITHOUT THE CONSENT OF YOUR PARENT OR GUARDIAN. 
YOU MAY NOT ORDER OR OBTAIN PRODUCTS OR SERVICES FROM THIS WEBSITE IF YOU (A) DO NOT AGREE TO THESE TERMS, (B) ARE NOT THE OLDER OF (i) AT LEAST 18 YEARS OF AGE OR (ii) LEGAL AGE TO FORM A BINDING CONTRACT WITH AHIMSA, OR (C) ARE PROHIBITED FROM ACCESSING OR USING THIS WEBSITE OR ANY OF THIS WEBSITE'S CONTENTS, GOODS OR SERVICES BY APPLICABLE LAW.
This website is intended only for users located in the United States.
WEBSITE TERMS OF USE
Consent to be Bound.  This Agreement applies to all users of the Website, including without limitation users who are browsers, vendors, customers, merchants, and/ or contributors of content.  In addition, any new features or tools that are added to the current Website shall also be subject to these Terms.  If you do not wish to be bound by this Agreement, you may not use the Website. Some areas of the Website may have additional terms and conditions ("Additional Terms"). Where Additional Terms apply, we will make them available for you to read through prior to your use of that area of the Website. By using those areas of the Website, you agree to the Additional Terms, which are hereby incorporated into this Agreement. This Agreement governs your use of the Website.  You specifically agree that the collection and use of user information through the Website, or otherwise, in connection with your use of the Website, is subject to the Privacy Policy. When you use the Website, you are automatically agreeing to be bound by this Agreement and the Additional Terms. If you do not agree with any of the terms and conditions expressed in this Agreement or the Privacy Policy, please do not use the Website. 

Changes.  Ahimsa may make changes to these Terms, which will be posted to this page and will become effective immediately upon posting.  For this reason, we urge you to read these Terms each time you visit our Website. You are responsible for reviewing this Agreement prior to your purchasing of products.  Your continued use of this Website, including purchasing of products, after a posted change in these Terms will constitute your acceptance of and agreement to such changes.  

Access Rights.  We hereby grant to you a limited, non-exclusive, non-transferable right to access the Website and use the Services solely for your personal non-commercial use and only as permitted under this Agreement. We reserve the right, in our sole discretion, to deny, terminate or suspend use of the Website, to anyone for any reason.  After such termination, Ahimsa will have no further obligation to you to provide access or Services. Ahimsa reserves the right, in its sole discretion, to (i) terminate your access to the Website or any portion thereof at any time, without notice; and (ii) withdraw, suspend or discontinue any functionality or feature of the Website.  

Website Content Not Medical Advice.  You should not consider content on the Website to be medical advice.  Content found on the Website or provided via email is for general educational and informational purposes only and is not intended to replace the relationship between you and your physician or other medical provider. You should not rely on information on this Website to make medical decisions.  Do not provide us with any health information in your communications with us; we do not provide any individual health-related advice.  See our Disclaimer for more information.

Use of the Website and the Services.  You are responsible for your use of the Website and Services. When you use the Website or Service, you are prohibited from any attempt to compromise security or tamper with system resources and/or accounts associated with this Website. The use or distribution of tools designed for compromising security (e.g., network probing tools) is strictly prohibited. If you become involved in any violation of system security, we reserve the right to release your details to system administrators at other websites in order to assist them in resolving security incidents. We reserve the right to investigate suspected violations of this Agreement.
Without limiting our right to use data related to you as set forth in our Privacy Policy, and to the extent permitted by law, we may: (i)  use and disclose information related to you in special instances when we have reason to believe disclosing this information is necessary to investigate, identify, contact, or bring legal action against someone who may be causing injury to or interfering with our rights or property, other Website visitors, or anyone else; (ii) disclose your information when subpoenaed, if ordered or otherwise required by a court of law, arbitrator, or other similar proceeding or the rules governing such a proceeding, for government investigations, with government agencies if required by law, to exercise, establish, or defend our legal rights, to protect your vital interests or those of any other third party, and when we otherwise believe in good faith that any applicable law requires it; and (iii) fully cooperate with any law enforcement authorities or court order requesting or directing us to disclose the identity of anyone using or supplying information through this Website, and we reserve the right to provide information about you to law enforcement if we believe you have breached this agreement or violated any applicable laws. BY ACCEPTING THIS AGREEMENT YOU WAIVE AND HOLD US HARMLESS FROM ANY CLAIMS RESULTING FROM ANY ACTION TAKEN BY US DURING OR AS A RESULT OF ITS INVESTIGATIONS AND/OR FROM ANY ACTIONS TAKEN AS A CONSEQUENCE OF INVESTIGATIONS BY AHIMSA OR LAW ENFORCEMENT AUTHORITIES.
Communications Consent and Communications Risks of Using the Website.  By entering your personal information in an online form or checking a box acknowledging these terms, you are consenting to communicate with Ahimsa via email or other electronic means of communication that we use to communicate with you.  All communications sent over an Internet connection, including through use of the Website, are inherently vulnerable to hacking, theft, unauthorized access and/or disclosure, misdirection, loss of data, corruption of data, delays or interruptions in communication, and reductions in quality due to lack of or reduction in broadband access and reliability.   

You understand that we cannot and does not guarantee or warrant that files available for downloading from the Internet, including without limitation Content, will be free of viruses, worms, Trojan horses, or other code that may manifest contaminating or destructive properties. Ahimsa does not assume any responsibility or risk for your use of the Internet.
Proprietary Information.   The material and content accessible from this Website, and any other Website owned, operated, licensed, or otherwise controlled by Ahimsa, including without limitation all text, video, audio, streaming content, graphics, images, photographs and other perceivable media, as well as documents and information downloadable from the Website (the "Content") is the proprietary information of Ahimsa or the party that provided or licensed the Content to Ahimsa, whereby Ahimsa and its licensors retain all right, title, and interest in the Content, and are protected by United States and international copyright, trademark, trade secret and other intellectual property or proprietary rights laws. Neither title nor intellectual property rights in and to the Website or the Content are transferred to you by access to this Website.  Modification or use of the Website or its Content except as expressly provided in this Agreement violates Ahimsa's intellectual property rights and/or the intellectual property rights of others.  You must not access or use for any commercial purposes any part of the Website.
Hyper-links.  This Website may be hyper-linked to other Websites, which are not maintained by, or related to, Ahimsa. Hyper-links to such websites are provided as a service to users and are not sponsored by or affiliated with this Website or Ahimsa.  Ahimsa has not reviewed any or all of such websites and is not responsible for the content of those websites. Ahimsa is not responsible for webcasting or any other form of transmission received from any hyper-linked website. Hyper-links are to be accessed at the user's own risk, and Ahimsa makes no representations or warranties about the content, completeness, or accuracy of these hyper-links or the websites hyper-linked to this Website. Ahimsa provides hyper-links as a convenience, and the inclusion of any hyper-link to a third-party website does not necessarily imply endorsement by Ahimsa of that website, its owner, or its content.  You agree that we shall not be responsible for any loss or damage of any sort incurred as a result of any such links or as the result of the presence of such links on this Website. It is up to you to take precautions to ensure that whatever linked material you select is free of items such as viruses, worms, Trojan horses, and other destructive items.

Trademarks. Certain names, logos, and other materials displayed on the Website may constitute trademarks, trade names, service marks or logos ("Marks") of Ahimsa, or other entities. You are not authorized to use any such Marks without the express written permission of such entities. Ownership of all such Marks and the goodwill associated therewith remain with the owning entities or their authorized licensees.

Privacy. We respect your privacy and are committed to protecting it. Our Privacy Policy, , governs the processing of all personal data collected from you in connection with your purchase of products or use of Services through the Website.

Products or Services.  Certain products or services may be available exclusively online through the Website. These products or services may have limited quantities and are subject to return or exchange only according to our Return Policy in effect at the time of your purchase.  We have made every effort to display as accurately as possible the colors and images of our products that appear at the store. We cannot guarantee that your computer monitor's display of any color will be accurate.  We reserve the right, but are not obligated, to limit the sales of our products or Services to any person, geographic region or jurisdiction. We may exercise this right on a case-by-case basis. We reserve the right to limit the quantities of any products or services that we offer.  
Please see our Lifetime Product Warranty for all warranties, disclaimers of warranties and limits of liability related to the products sold by Ahimsa.   
DISCLAIMER OF WARRANTIES AND LIMITATION ON LIABILITY RELATED TO SERVICES.  THE WEBSITE, ITS CONTENT, ANY INFORMATION AVAILABLE ON OR THROUGH THE WEBSITE AND THE SERVICES ARE PROVIDED "AS IS" AND "AS AVAILABLE" AND WITHOUT ANY REPRESENTATIONS OR WARRANTIES OF ANY KIND, EITHER EXPRESS OR IMPLIED, INCLUDING ANY IMPLIED WARRANTIES OF TITLE OR NON-INFRINGEMENT REGARDING OR RELATING IN ANY WAY TO THE WEBSITE OR ITS CONTENT.  NO ADVICE OR INFORMATION, WHETHER ORAL OR WRITTEN, OBTAINED BY YOU FROM AHIMSA OR THROUGH THE WEBSITE WILL CREATE ANY WARRANTY NOT EXPRESSLY MADE IN THESE TERMS OF SERVICE.  IN ADDITION, AHIMSA AND ITS RESPECTIVE EMPLOYEES, DIRECTORS, OFFICERS, AGENTS, REPRESENTATIVES, VENDORS, AND/OR SUPPLIERS (REFERRED TO COLLECTIVELY AS "AFFILIATES") DO NOT REPRESENT OR WARRANT THAT YOUR USE OF THE WEBSITE, OR THE OPERATION OR FUNCTION OF THE WEBSITE OR ANY COMPONENT THEREOF, OR ANY SERVICES OFFERED IN CONNECTION THEREWITH, WILL BE UNINTERRUPTED OR ERROR FREE; THAT DEFECTS THEREWITH WILL BE CORRECTED; OR THAT THE WEBSITE OR ITS SERVER ARE FREE OF VIRUSES OR OTHER HARMFUL ELEMENTS. 
AHIMSA IS NOT LIABLE FOR ANY DAMAGES, INCLUDING SPECIAL, INDIRECT, PUNITIVE, OR CONSEQUENTIAL DAMAGES OF ANY NATURE, RESULTING FROM ANY USE OF OR RELIANCE ON, THE CONTENT OF THE WEBSITE, MATERIALS OR INFORMATION PROVIDED ON OR THROUGH THE WEBSITE, OR THE SERVICES PROVIDED THROUGH THE WEBSITE, EVEN IF AHIMSA HAS BEEN ADVISED OR SHOULD HAVE KNOWN OF THE POSSIBILITY OF SUCH DAMAGE. 
LIMITATION OF LIABILITY. 

TO THE FULLEST EXTENT PERMITTED BY LAW, AHIMSA AND ITS AFFILIATES WILL HAVE NO LIABILITY FOR ANY: (a) ERRORS, MISTAKES, OR INACCURACIES OF WEBSITE CONTENT; (b) PERSONAL INJURY OR PROPERTY DAMAGE RESULTING FROM YOUR ACCESS TO OR USE OF THE WEBSITE; (c) ANY UNAUTHORIZED ACCESS TO OR USE OF OUR SERVERS OR OF ANY PERSONAL OR FINANCIAL INFORMATION; (d) ANY INTERRUPTION OF TRANSMISSION TO OR FROM THE WEBSITE; (e) ANY BUGS, VIRUSES, TROJAN HORSES, OR THE LIKE WHICH MAY BE TRANSMITTED ON OR THROUGH THE WEBSITE BY ANY THIRD PARTY; OR (f) ANY LOSS OR DAMAGE OF ANY KIND INCURRED AS A RESULT OF THE USE OF ANY CONTENT POSTED, EMAILED, TRANSMITTED, OR OTHERWISE MADE AVAILABLE ON OR THROUGH THE WEBSITE. 
IN THE EVENT OF ANY PROBLEM WITH THIS WEBSITE OR ITS CONTENT, YOU AGREE THAT YOUR SOLE REMEDY SHALL BE TO CEASE USE OF THE WEBSITE. IN THE EVENT OF ANY PROBLEM WITH ANY PRODUCT OR SERVICE PURCHASED THROUGH THIS WEBSITE, PLEASE SEE OUR LIFETIME PRODUCT WARRANTY AND RETURN POLICY.
The foregoing disclaimer of warranties and limitations on liabilities related to Services, including the scope and duration of such warranties and the extent of Ahimsa's liabilities, shall apply to the fullest extent permitted by law, unless restricted or prohibited by law.
Some states do not allow the exclusion or limitation of certain damages, or allow limitations on warranties, so the above limitations or exclusions may not apply to you. This warranty gives you specific rights, and you may have other rights, which vary from state to state. Where any term of this warranty is prohibited by applicable law, it shall be null and void, but the remainder of this warranty shall remain in effect.
All of the information in this Website, whether historical in nature or forward-looking, speaks only as of the date the information is posted on this Website, and Ahimsa does not undertake any obligation to update such information after it is posted or to remove such information from this Website if it is not, or is no longer accurate or complete.
Indemnification.

  You will indemnify and hold Ahimsa, its subsidiaries, affiliates, licensors, content providers, service providers, employees, agents, officers, directors, and contractors (the "

Indemnified Parties

") harmless from any breach of this Agreement by you, including any use of Content other than as expressly authorized in this Agreement. You agree that the Indemnified Parties will have no liability in connection with any such breach or unauthorized use, and you agree to indemnify any and all resulting loss, damages, judgments, awards, costs, expenses, and attorney's fees of the Indemnified Parties in connection therewith. You will also indemnify and hold the Indemnified Parties harmless from and against any claims brought by third parties arising out of your use of the information accessed from this Website, except to the extent such claims and losses are due to the negligent or willfully malicious acts of Ahimsa. 

Choice of Law and Venue. This Agreement will be governed and interpreted pursuant to the laws of Indiana, United States of America, excluding any principles of conflicts of law. You specifically consent to personal jurisdiction in Marion, Indiana in connection with any dispute between you and arising out of or relating to this Agreement or pertaining to the subject matter hereof. The parties to this Agreement each agree that the exclusive venue for any dispute between the parties arising out of this Agreement will be in the state and federal courts in Marion County, Indiana.  

Submissions.  You hereby grant to Ahimsa the royalty-free, perpetual, irrevocable, worldwide, sublicensable through multiple levels, transferrable, non-exclusive right and license to use, reproduce, make, modify, adapt, publish, translate, broadcast, create derivative works from, distribute, offer to sell, sell, import, perform, and display all feedback, suggestions, ideas, or other improvements to, or reviews of, the Website or the Services you communicate to Ahimsa through this website or the communication methods noted on this website (such as e-mail addresses, phone numbers, and physical addresses) (together, ("Feedback"), and to incorporate any Feedback, in whole or in part or modified as Ahimsa sees fit, in other works, products, or services in any form, media, or technology now known or later developed. You hereby waive in perpetuity all so-called "moral rights," rights of integrity, rights of paternity, rights of disclosure, rights of withdrawal, rights of attribution, rights to prevent attribution in the event of a distortion, mutilation, or modification, and all such analogous rights in or related to any Feedback.  Ahimsa will not be required to treat any Feedback as confidential, and may use any Feedback to the full extent of its license without incurring any liability for royalties or any other consideration of any kind, and will not incur any liability as a result of any similarities that may appear in future Ahimsa products, services or other business operations.

Affiliate Membership.  Your membership in Ahimsa's Affiliate Program is governed by the agreement related to affiliate membership with Ahimsa, which shall control and supersede any conflicting terms in this Agreement related to membership and your agreement with our vendor, ShareASale.  Ahimsa may provide itself, or through its service provider, webforms or other services on the Website for you to submit information for application to become an affiliate.  Your submission of an application does not entitle you to membership or guarantee you will be admitted as a member.  Instead, membership is given in the sole discretion of Ahimsa.       

Copyright Claims.  If you believe that your work has been copied in a way that constitutes copyright infringement, please provide Ahimsa's copyright agent the written information specified below. Please note that this procedure is exclusively for notifying Ahimsa and its affiliates of your claim that your copyrighted material has been infringed.
An electronic or physical signature of the person authorized to act on behalf of the owner of the copyright interest;
A description of the copyrighted work that you claim has been infringed upon;
A description of where the material that you claim is infringing is located on the website, including the auction ID number, if applicable;
Your address, telephone number, and e-mail address;
A statement by you that you have a good faith belief that the disputed use is not authorized by the copyright owner, its agent, or the law;
A statement by you, made under penalty of perjury, that the above information in your notice is accurate and that you are the copyright owner or authorized to act on the copyright owner's behalf.
Ahimsa's Copyright Agent for notice of claims of copyright infringement on its website can be reached as follows:
Copyright Agent:
Kristin Westfall
320 North Meridian Street
Suite 614
Indianapolis, IN 46204 USA
e-mail: legal@ahimsahome.com
Miscellaneous.  Ahimsa may assign or otherwise convey any of its rights and obligations under this Agreement, but you may not.  All of the terms and conditions of this Agreement shall inure and be binding upon any party's permitted successors and assigns. 
If any part of this Agreement is unlawful, void, or unenforceable, that part shall be modified by a court of competent jurisdiction to reflect to the maximum extent possible the original intention of the parties as dictated by the original wording or, if not amendable to become lawful and enforceable, shall be severable from this Agreement and will not affect the validity and enforceability of any remaining provisions.
You agree that no joint venture, partnership, employment, or agency relationship exists between you and Ahimsa as a result of this Agreement or your accessing, visiting, browsing, using, or otherwise interacting with the Website.
This Agreement constitutes the entire agreement among the parties relating to this subject matter and supersedes all prior or contemporaneous communications and proposals, whether electronic, oral or written between the user and Ahimsa with respect to the Website.  Notwithstanding the foregoing, any additional terms and conditions on this Website will govern the items to which they pertain.
The section headings appearing in this Agreement are inserted only as a matter of convenience and in no way define, limit, construe or describe the scope or extent of such section or in any way affect such section.
The failure by Ahimsa at any time to enforce any of the provisions of this Agreement or any right or remedy available hereunder or at law or in equity, or to exercise any option herein provided, will not constitute a waiver of such provision, right, remedy or option or in any way affect the validity of this Agreement.  The waiver of any default us will not be deemed a continuing waiver, but will apply solely to the instance to which such waiver is directed.
This Agreement may contain typographical errors or other errors or inaccuracies and may not be correct or current.  We reserve the right to correct any errors, inaccuracies or omissions and to change or update this Agreement at any time without prior notice.  However, we do not guarantee that any errors, inaccuracies or omissions will be corrected.
If you have questions regarding Terms of Use or wish to obtain additional information, please send an e-mail to support@ahimsahome.com.
Date of Last Modification: 10-25-2022
II. CONDITIONS OF ORDER
All orders placed with Ahimsa are subject to the terms of these Conditions of Order. Any purported change submitted by a purchaser in any additional documentation is hereby expressly rejected. Orders placed on forms deviating from these terms and conditions may be accepted, but solely on the basis that the terms of these Conditions of Order will prevail and such terms will be the sole terms governing the order.
When you make a purchase, you may be subject to additional terms by our service providers, Shopify and  Affirm.
We currently ship products only to customers within the United States.
Orders, Acceptance and Cancellation. You agree that your order is an offer to buy, under this Agreement, all products listed in your order. All orders must be accepted by us or we will not be obligated to sell the products to you. We may choose not to accept any orders in our sole discretion, or limit or cancel quantities purchased per person, per household or per order. These restrictions may include orders placed by or under the same customer account, the same credit card, and/or orders that use the same billing and/or shipping address. In the event that we make a change to or cancel an order, we may attempt to notify you by contacting the e-mail and/or billing address/phone number provided at the time the order was made. After having received your order, we will send you a confirmation email with your order number and details of the items you have ordered. Acceptance of your order and the formation of the contract of sale between Ahimsa and you will not take place unless and until you have received your order confirmation email.  We reserve the right to limit or prohibit orders that, in our sole judgment, appear to be placed by dealers, resellers or distributors.  

Electronic Communication. When you place an order via the Website, you are required to provide a valid email address, which we may use to communicate with you regarding the status of your order, advise you regarding shipment of backordered products, and to provide you with any other notices, disclosures or other communications relating to your order. You agree that Ahimsa will not be responsible for any damage you incur, or information you do not receive, as a result of your failure to provide and maintain a valid email address or as a result of any failure of your email system, spam filters, or other impediments to your receipt of our communications.

Prices and Product Information.  Ahimsa makes every effort to provide current and accurate information relating to the products and prices, but does not guarantee the currency or accuracy of any such information. Information relating to products is subject to change without notice. Prices are subject to change at any time prior to Ahimsa's completion of your order. In the event we discover a material error in the description or availability of a product that affects your outstanding order with Ahimsa, or an error in pricing, we will notify you of the corrected version, and you may choose to accept the corrected version, or cancel the order. If you choose to cancel the order, and your credit card has already been charged for a purchase, Ahimsa will issue a credit to your credit card in the amount of the charge. All prices are in U.S. dollars.  We reserve the right to discontinue any product at any time. Any offer for any product made on this site is void where prohibited.

Payment.  Terms of payment are within our sole discretion and payment must be received by us before our acceptance of an order. We accept Visa, MasterCard, American Express, Discover, Apple Pay, Google Pay, Shop Pay and Affirm for all purchases. You represent and warrant that (i) the credit card information you supply to us is true, correct, and complete, (ii) you are duly authorized to use such credit card for the purchase, (iii) charges incurred by you will be honored by your credit card company, and (iv) you will pay charges incurred by you at the posted prices, including all applicable taxes, if any.  You agree to promptly update your account and other information, including your email address and credit card numbers and expiration dates, so that we can complete your transactions and contact you as needed.

Taxes.  Except as otherwise provided on the Website, prices shown do not include any federal, state or local taxes, or any other taxes or charges imposed by any government authority, including, without limitation, sales, use, excise, value-added or similar taxes. Where applicable, such taxes and charges shall be billed as a separate item and paid by you. Orders are accepted with the understanding that such taxes and charges shall be added, as required by law.

Shipments; Delivery; Title and Risk of Loss. We will arrange for shipment of the products to you. Please check the individual product page for specific delivery options. You will pay all shipping and handling charges specified during the ordering process. Title and risk of loss pass to you upon our transfer of the products to the carrier/delivery.  Shipping and delivery dates are estimates only and cannot be guaranteed. We are not liable for any delays in shipments.  
If you provide an address that is considered insufficient by the courier, the shipment will be returned to us. You will be liable for reshipment costs once we have confirmed an updated address with you (if and as applicable).

Handling Charge.  There is no minimum order or handling fee.

Freight Damage. If you receive merchandise that has been damaged in transit, it is important to keep the shipping carton, packing material and parts intact. Please contact support@ahimsahome.com immediately to initiate a claim.

Package Not Received But Tracking Status Delivered.  If the package was marked as delivered by the carrier, but you have yet to receive it, Ahimsa will not cover the cost of replacement or refund the order. There may be cases where the delivery was made, but the package was left in an unexpected location at your address. You should reach out to the carrier and inquire if any additional details were left by the delivery person. For example: "Left under the table on the back porch."  

Out of Stock.  If a product you order is out of stock at time of order placement, you may elect to switch to an alternative product, preorder and wait for the product to come back into stock or cancel the order.  Ahimsa does not guarantee that any item displayed on the Website will be in stock at all times.  

Return Policy.  Products available on the Website are subject to return or exchange only according to our Return Policy in effect at the time of your purchase. 

Product Warranty.  Ahimsa offers a Limited Lifetime Product Warranty on all products sold through the Website.  The Limited Lifetime Product Warranty is subject to the provisions of these Conditions of Order.  We will honor the Limited Lifetime Product Warranty in effect at the time of your purchase.

Force Majeure. Ahimsa will not be liable for delays in delivery or for failure to perform its obligations due to causes beyond its reasonable control including, but not limited to, product allocations, material shortages, labor disputes, transportation delays, unforeseen circumstances, acts of God, acts or omissions of other parties, acts or omissions of civil or military authorities, Government priorities, fires, strikes, floods, severe weather conditions, computer interruptions, terrorism, epidemics, quarantine restrictions, riots or war. Ahimsa 's time for delivery or performance will be extended by the period of such delay or Ahimsa may, at its option, cancel any order or remaining part thereof, without liability, by giving notice to you.

Applicable Law; Dispute Resolution; Limitation on Actions. The laws of the State of Indiana shall apply to these Conditions of Order, without regard to any conflict of law provisions. The 1980 United Nations Convention on Contracts for the International Sale of Goods, the United Nations Convention on the Limitation Period in the International Sale of Goods, and the Uniform Computer Information Transactions Act, and any implementations thereof in various jurisdictions and any subsequent revisions thereto, shall not apply to these Conditions of Order. Any controversy or claim arising out of or relating to the Conditions of Order or your purchase or use of Products (a "Dispute") shall be settled by arbitration under the rules provided by the American Arbitration Association (AAA), and you hereby waive any right you may otherwise have to a jury trial. A single arbitrator shall preside over any arbitration, and such arbitrator shall, in his or her sole discretion, determine the arbitrability of any alleged Dispute. Any arbitration shall be conducted in Indianapolis, Indiana. To the fullest extent permitted by applicable law, no arbitration under these Conditions of Order will be joined to an arbitration involving any other party subject to these Conditions of Order, whether through class arbitration proceedings or otherwise. Judgment on an award rendered by an arbitrator may be entered in any state or federal court within or without the State of Indiana. Notwithstanding the foregoing, in lieu of or addition to any other remedies available to Ahimsa, Ahimsa may seek injunctive or other relief in any state, federal, or national court of competent jurisdiction for any actual or alleged infringement of Ahimsa's or any third party's intellectual property or proprietary rights. You hereby irrevocably consent to exclusive jurisdiction and venue of the State and Federal courts of the State of Indiana with respect to any such injunctive or other relief. You further acknowledge that Ahimsa's rights in its intellectual property are of a special, unique, extraordinary character, giving those rights peculiar value, the unauthorized use, disclosure, or loss of which cannot be readily estimated and may not be adequately compensated for in monetary damages. Any Dispute initiated by you must be instituted within one (1) year from the date of purchase or provision of the product at issue except for a Dispute based on breach of warranty which must be instituted within ninety (90) days of the date Ahimsa denies a warranty claim set for in the product Warranty.

General Provisions. These Conditions of Order constitute the entire agreement of the parties with respect to the subject matter hereof. No waiver by Ahimsa of any breach or default hereunder shall be deemed to be a waiver of any preceding or subsequent breach or default. If any part of the Conditions of Order are determined by a court of competent jurisdiction or arbitrator with jurisdiction over a Dispute to be invalid or unenforceable, it will not impact any other provision of the Conditions of Order, all of which will remain in full force and effect, and such court or arbitrator shall have the authority, if possible, to revise any invalid or unenforceable provision to most accurately reflect the intent of the parties as shown by the original wording of that provision while rendering it valid and enforceable. No rights, duties, agreements or obligations hereunder, may be assigned or transferred by you by operation of law, merger or otherwise, without the prior written consent of Ahimsa. These Conditions of Order and the subject matter that they cover, including without limitation the purchase of Products, do not create any joint venture, partnership, employment, or agency relationship between you and Ahimsa or its suppliers. The obligations, rights, terms and conditions hereof will be binding upon and inure solely to the benefit of the parties hereto and their permitted respective successors and assigns, and do not and are not intended to confer any rights or remedies upon third-parties. 

Changes to the Conditions of Order. Ahimsa reserves the right to change the terms of these Conditions of Order without notice. You are responsible for reviewing these Conditions of Order prior to your purchasing of products, and your purchasing of products after any changes to these Conditions of Order acknowledges your agreement to the then current Conditions of Order. In the event that a change or update is made to these Conditions of Order, the "Date of Last Modification" will be updated accordingly.  Notwithstanding any provision of these Conditions of Order to the contrary, Ahimsa may make changes to these Conditions of Order in its sole discretion and such changes shall be binding on you and Ahimsa.

Community Impact Purchases.

 Cafeteria trays purchased on behalf of schools through ahimsahome.com/pages/community-impact are not for personal use, they will be provided to schools seeking to use sustainable materials in their cafeterias. These trays will be provided directly to the schools by Ahimsa LLC at a time and location deemed appropriate by Ahimsa LLC. By completing the purchase, customers agree to the above and understand the cafeteria trays will not be shipped to them personally.
Ahimsa may revise this Agreement at any time by updating this posting.
Your use of this Website is further governed by the Website's Privacy Policy, which may be viewed here: https://ahimsahome.com/pages/privacy-policy.
If you have questions regarding Conditions of Order or wish to obtain additional information, please send an e-mail to support@ahimsahome.com.
Effective Date: October 7, 2019, Updated 6/6/2022 and 10/25/2022.
© 2022 Ahimsa LLC, All Rights Reserved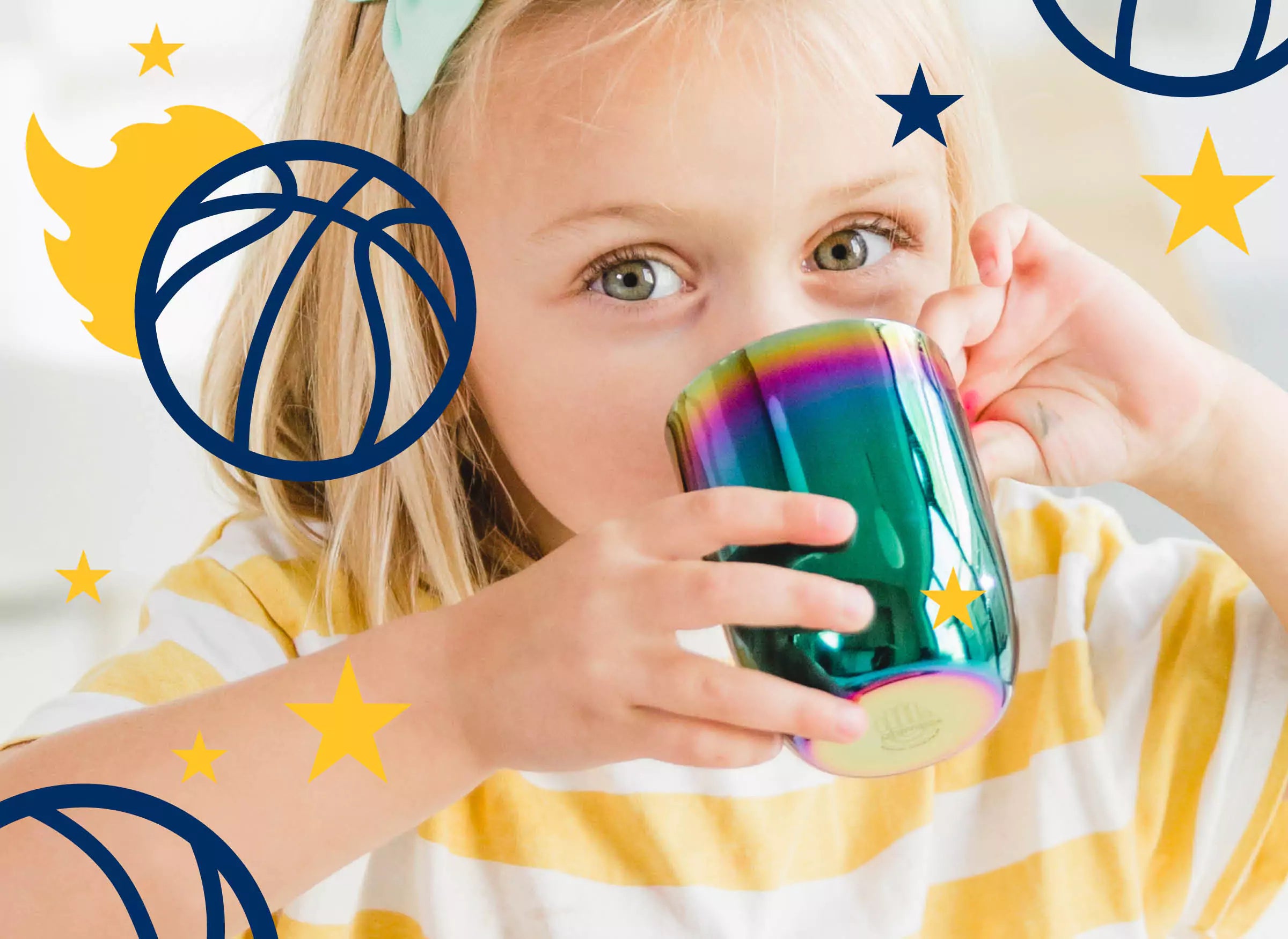 Welcome, Pacers families!
We hope you love your NBA All-Star Game-branded bottle! Thanks for visiting our world of safe, sustainable dining with stainless steel.